The pandemic has raised expectations of marketers' social performance. With algorithm changes that were made in 2020, it was a big deal to even get our brands to stay afloat while entering 2021, especially if run organically on some thoroughly thought strategies. As a digital marketer, I did not pause, rather pivoted marketing strategies for brands I worked for. Tbh, I experienced burnout, felt like I was working round the clock to improve my brand's engagement, however, the process left me with a plan for action for 2021.
Here are 5 techniques I trust that you and I as social marketer should harness –
1. Strategize Smarter
There is no one size fits all but there certainly is a theme for each industry. In a time of uncertainty, consumers are now looking for certainty. A certainty that the product they just ordered via amazon prime, will arrive by the guaranteed delivery date. A certainty that keeps customers/users hopeful. To do so, a strategy is involved.
As a social marketer, you want to build a theme for each month and get even granular by creating a theme for each week. You definitely don't want people thinking your brand posts creatives in the spur of the moment. We are expanding the brand's social footprint by creating content that is relevant, insightful and looked forward to, in turn supporting the brand's business goals.
I use monday.com but you can create something like this on an excel sheet even. Here is a screenshot depicting the same –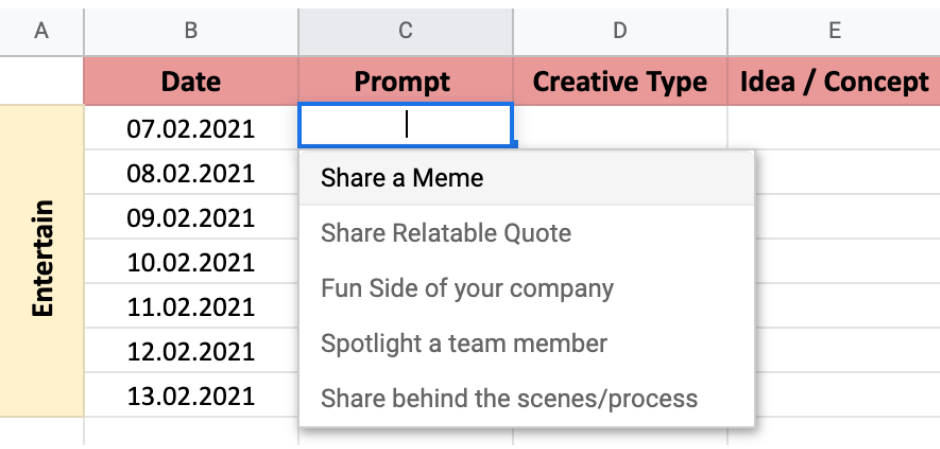 So I create a theme for each week depending on the business's overall goals and objectives. I further delve into the types of prompts for each day distributed across social channels. Mind you, this doesn't mean I have got content published on the channel's feed every day, sometimes it's just stories/ YouTube shorts to keep the brand's followers/subscribers engaged and tuned for more valuable content.
What type of content performed the best in 2020 based on my experience?
User-Generated Content, ofcourse! Lean on trusted UGC content for your company over costly means of content production. I'd even recommend incorporating your UGC into your email marketing campaigns as well. A brand I have seen incorporate this well into email campaigns is National Geographic.

2. Tap into Opportunities

Social is a great way to help keep your brand's customers loyal and engaged. This past year, engaging a lot more with my brand's communities via Facebook Groups/ Reddit Pages has helped a great deal.
Like Milton Berle once said, "If opportunity doesn't knock, build a door."
With video marketing heavily on the rise, you might get stuck when envisioning what topics would keep your subscribers engaged. I turn to my thinking cap – Google Trends. I search for specific keywords, check the seasonality of its use in different regions, look into related topics & queries. I distill my search even further via YouTube Search.
In case you haven't taken to YouTube yet, here's a fact – YouTube is the world's second most used social platform in 2021. (Source – Hootsuite)
3. Bolster social listening
Sometimes silence is golden. Your followers don't want to hear from you all the time. 2020 witnessed many individuals (including myself) getting tired of most brands mention how 'unprecedented' the times were. We certainly don't want our brand to seem disingenuous.
Build a conversation, listen to your audience. Look at what your key demographics are talking about on social media. I for one noticed how my brand's key demographics were talking about getting outdoors and striking a new life balance. This helped build conversations and extend exclusive opportunities that helped them achieve the same.
Also, you want to respond to questions, reviews and such. If you don't use a tool like Hootsuite, you can always look up your brand's hashtag on specific platforms. Social listening and search analysis are steps that are skipped by most social marketers since we are so focused and busy with pushing out content.
Here's a tip – set aside 30 minutes – 1 hour each day you work to simply listen to what your brand's real-life personas have to say on social media. I prefer doing this right after my lunch break every day.
4. Look beyond demographics
As social marketers, we tend to segment our audiences based on demographics and leave them as is. However, the previous year made it a must for many brands to move to smart segmentation and thoughtful representation if they wanted to survive on the social front. In a certain paid ads campaign for a brand I worked for, their ads performed better when I narrowed people based on interests and passions that aligned with the brand's offering. This way, the brand didn't limit its reach based on age.
A study done by AARP shows that although 46% of the US population is aged over 50, only 15% of the images include adults of that age group. A personal tip would be to not consider this as a cue to go about pasting elderly people across your imagery.
A non-facebook way to engage and encourage your followers to participate and take action is Pinterest. "Retired baby boomers have more time on their hands, and we see a really high affinity within that demographic for gardening, travel, art, animals, DIY, and recipes," says Jim Habig, global head of business marketing at Pinterest. (Source: Hootsuite)
5. Focus on a bigger purpose
The marketing department steers the organization for a while and makes sure its marketing plans are aligned with sales. However, there are times when the two teams are going to have to let the company's values and ethos take over.
You are going to have to focus on giving back to the industry and highlighting the same via social marketing efforts, it doesn't work vice versa as you got to walk the talk. Don't be afraid as a marketer to remind the company you work for to proactively make the world a better place.
Being a social marketer, it is your role to humanize the brand to the audience. Social posts that highlighted such generous instances in 2020 garnered a lot more engagement and more importantly customer loyalty for the brand I worked on.
With great power comes great responsibility. This is something we have been looking forward to as Digital Marketers. An opportunity to show brands we work for, the impact social media can make to their brand's digital outlook and presence. We're finally getting the respect and acknowledgement we deserve!
As 2021 unfolds, don't be surprised if some of the company's reigns are entrusted into your hands. Stay attentive, expressive and effective!
(Visited 54 times, 1 visits today)